Pocket Rocket Up-Date
I saw yesterday that one of my favorite little pocket rocket cameras the Panasonic Lumix LX5 is on sale at BH for a ridiculous price of less than $250 until the end of the year.  By no means am I advocating that this camera will do everything for everyone or be the last camera you will ever need.  However, as far as small pocket cameras that have a decent-sized sensor, fast tele lens, respectable optics, manual override controls, RAW file output as well as a host of other nice options and characteristics this truly is a little rocket.  See my earlier post here.  Or google a review and you'll see many other similar opinions.
On the other end of the spectrum of compacts is the Sony RX1 with its full-frame CMOS sensor and fixed Zeiss 35mm lens for only a mere $2,800.  If the Lumix is a pocket rocket then the Sony RX1 is a pocket starship enterprise. Quite honestly, I will more than likely have one of these in my bags or on my person at all times.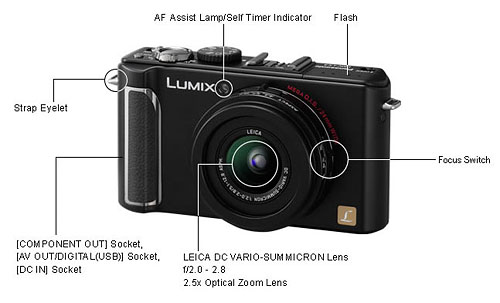 [from older post]
Long overdue, I am updating info on what I believe is a great pocket digital camera option. I advocate the use of a decent little pocket digital camera to capture those anytime moments. Sometimes my big gear is tied up shooting what I am supposed to be shooting.  But I want to shoot the set-up, B-roll, or something in front of me, other times I want to go light-enter point-and-shoot. There are lots of good little cameras out there in the $250-$450 range.  I am not being paid to say that I still and always carry the Panasonic Lumix DMC-LX1, 8.4 megapixels and that is what I used here [although Panasonic's most current model available is the LK5] It certainly beats carrying big gear worth $$$$$$
Now 5 generations later from my LX1 to the LX3 [20-60 mm f2.0-3.3] to the LX5 [10.1 MP 24-90mm f2.0-2.8]  version with a faster engine, more sensitive sensor, larger LCD display, hot shoe and capability to shoot video in HD.  Although they cut the optical zoom down to only 24-90 mm, there are accessories i.e. lens extenders and more. 'Nope haven't seen them or tested them, although I have tried to track some down but they are scarce.
I'm not that interested in them anyway.  I like the camera with the lens out wide and if it was a fixed 24mm I would be just as pleased.
I was curious too as many people have asked me "how long of a movie can I shoot on one card?" or "how many images can I shoot on one card?" Well, the Panasonic folk built a handy dandy little cross-tab table that tells all.  Just keep in mind that with the LX1 and LX2 you are limited to the size sd card you can use.  This table is exclusively for the LX-3.  Nonetheless, 3 hours of HD movie capture on a 16 GB card – that's beyond impressive. If you want the latest info about the LX5 check out Panasonic's specific site.
A couple of examples will show you how well it holds details in low light and shadow areas. The top image shows my wife and son strolling out of the water.  Notice how well the detail of the water rolling out of the bucket is held, not to mention no noticeable fringing. In the image above see how well the Lumix does in high light and skin tones.
I am not advocating this as the end of all of the cameras, but for a point-and-shoot…?????  For the record, these few example shots were processed from the RAW file via ACR2 with only global corrections and a bit of sharpening in the final jpg.
This is not the pocket rocket for everyone, but it is a pocket weapon for certain. If one were to pine for a camera this should be on the list. Do I own one not yet? No, as my LX1 is still working like a champ, but know I will cave sooner or later.
Again, it kills me to link to a reseller, but it beats answering hundreds of emails as to where to find this camera.
I have seen them on-line all over. Consider B&H photo, J&R Music, Calumet Photo, but tried and tested resellers with a real address and phone# is the only choice you should make. I personally gravitate to black-on-black for many reasons, but you may wish to select the silver model. Here is B&H's link for the black LX5 model, you can always search once you are in their site. And as of 3/28/2011 it was in stock.
If this isn't the camera for you, then a lesser Lumix is not necessarily the answer.   Lesser models do not have the same quality Leica lens, shoot raw, have manual controls, or employ the same sensor or conversion engine.  So, please do more homework before you buy. As far as I know the older models, Lumix dmc-lx2 and dmc-lx1 are indeed discontinued.
###