Building A Chief
When Rick Miller, President of ATT World-Wide called me personally to develop a brand, I got busy.
THE CHALLENGE: Create a new Speaker/CEO-Confidant/Biz-Expert brand from the ground up and make it special. Design a trade paperback book. Work directly with the client.
THE SOLUTION and RESULTS: I first got to work with Rick in a deep dive intake over a long weekend. This included hard questions, wild questions, fun icebreaker-type challenges, casual conversations, whiteboarding, good meals, and an occasional very nice single malt scotch. This long weekend revealed Rick's who, what, and importantly his why. After a ton of digging and thinking, an archetype of who Rick Miller is and where he is destined for emerged.
BEING CHIEF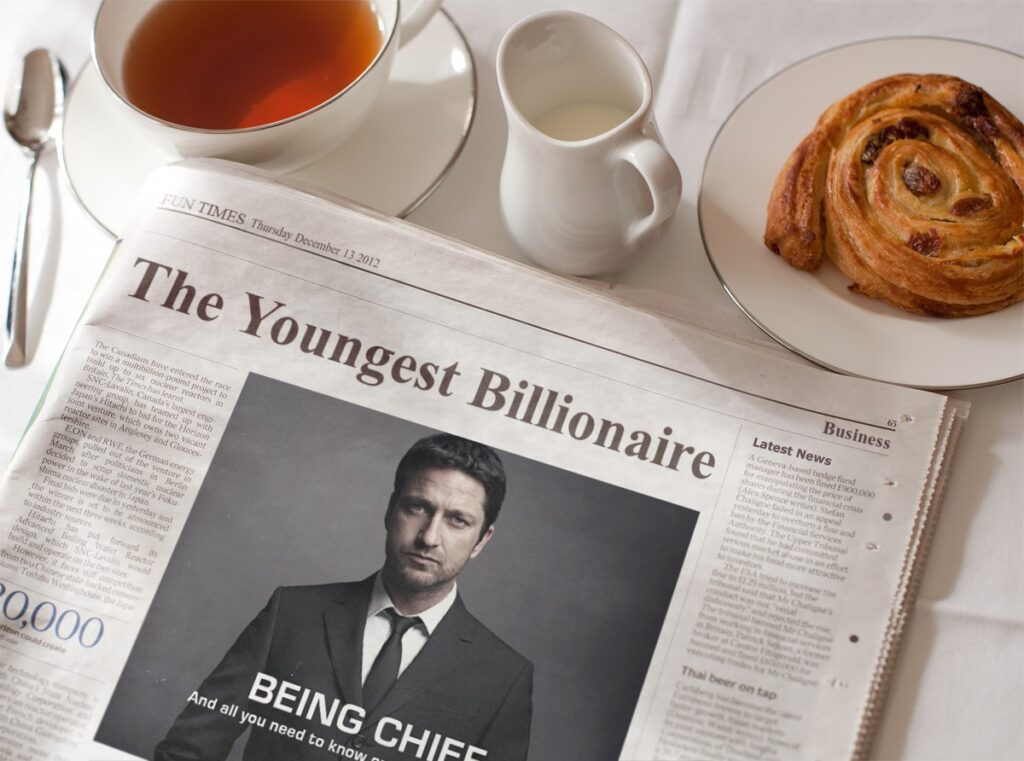 [thanks Jeremy Renner for letting me use your image in the mock-ups]
Next we dug even deeper, focusing on the individual pieces and the tone of the brand. Yes, Rick is a talented writer. Yet, all great writers benefit from the efforts of great editors. I brought on board good friend and long-standing colleague Jamey Jones to assist in editing Miller's book and writing other collateral. Jamey's pedigree and warm personality were a perfect fit for this project. Before long, versions 1, 2, and 3 were completed and the book was spreading its wings.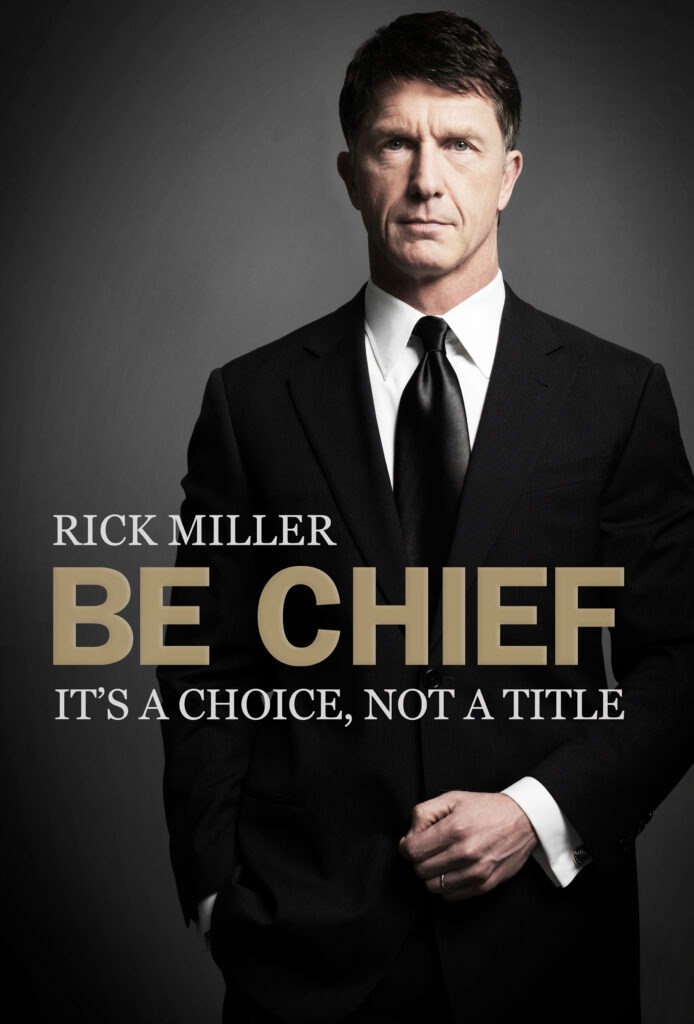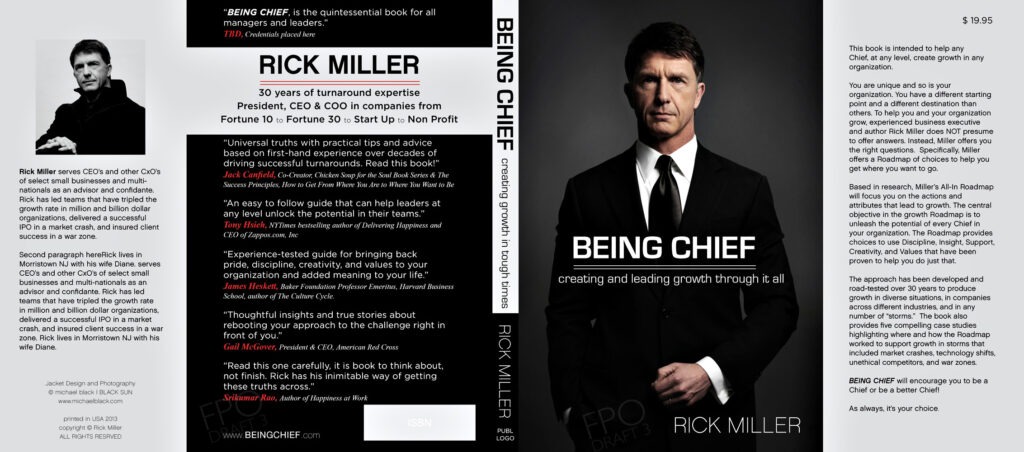 Simultaneously I was devoting time to wireframing a website, polishing compelling UX, and developing unique behaviors that needed slick coding. The site featured a bottom-anchored menu, a truly responsive site behavior, an image-heavy feel, a custom-built questionnaire, and an easy-to-access and use CMS. One newly introduced behavior allows users to have a continuous blog roll without having to leave the blog home page. In order to accomplish this, I created a simple [expand] and [collapse] action. Seems simple which is the best type of design, and shouldn't all blogs should work this way? I am confident we were the first to introduce it. Check it out: https://beingchief.com/blog/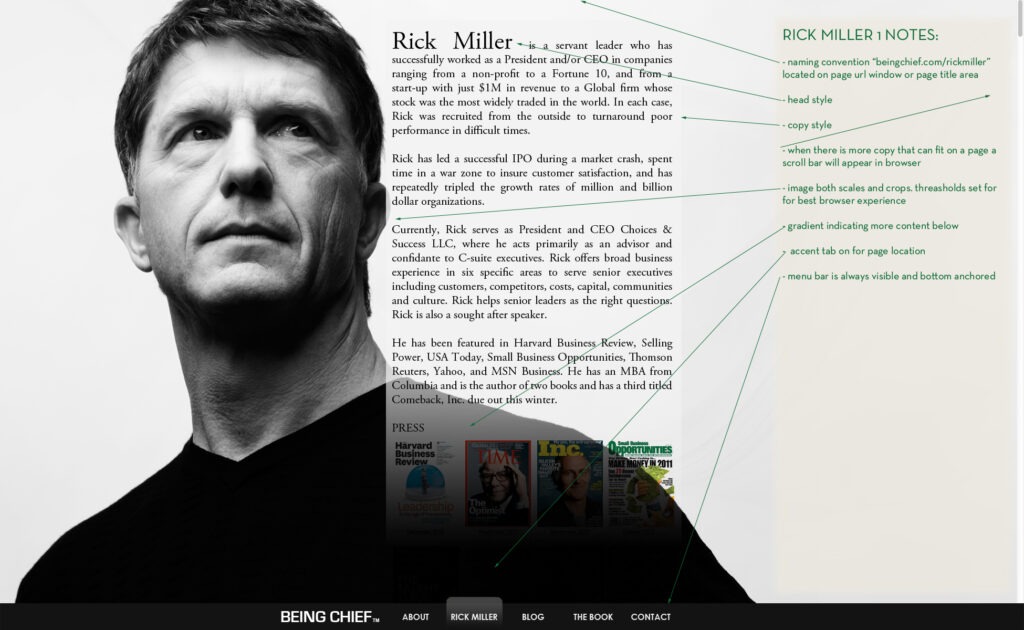 Supportive collateral was needed, so I built a presskit for international speaking gigs, a model survey for data-driven decision-making, and various other pieces.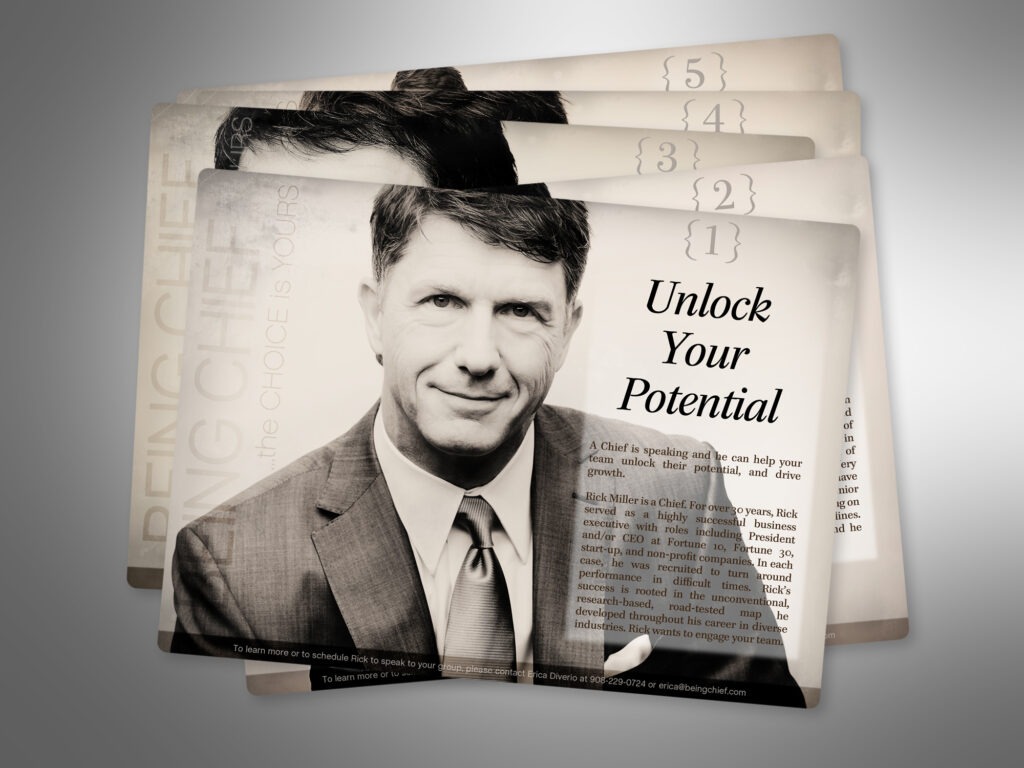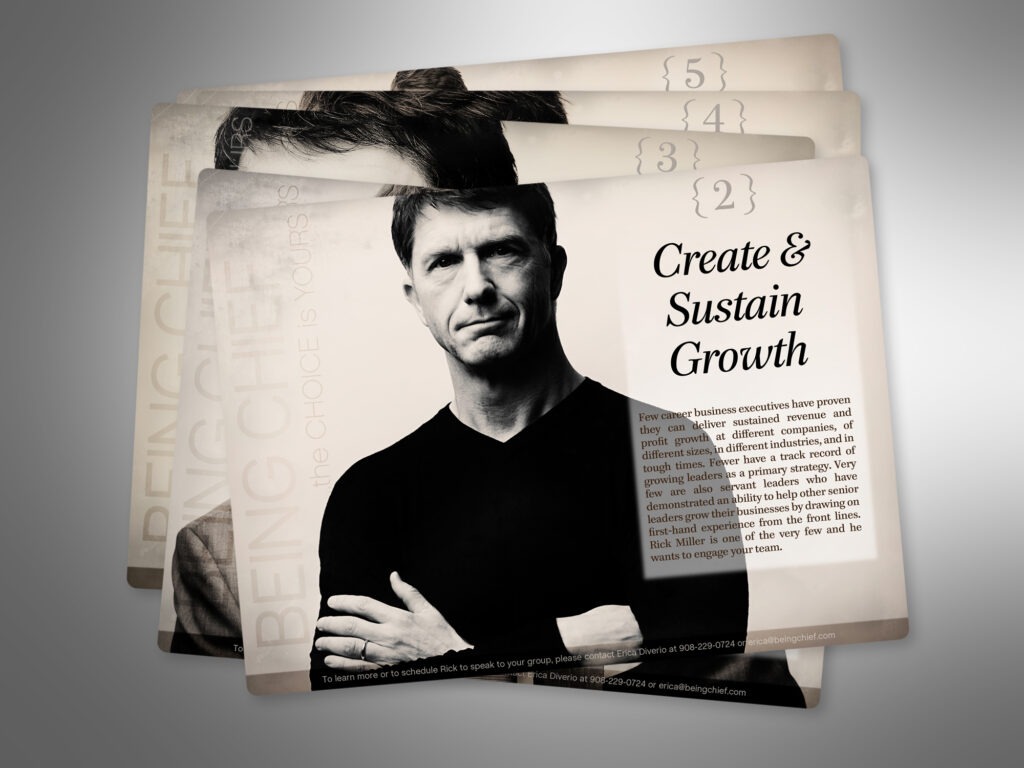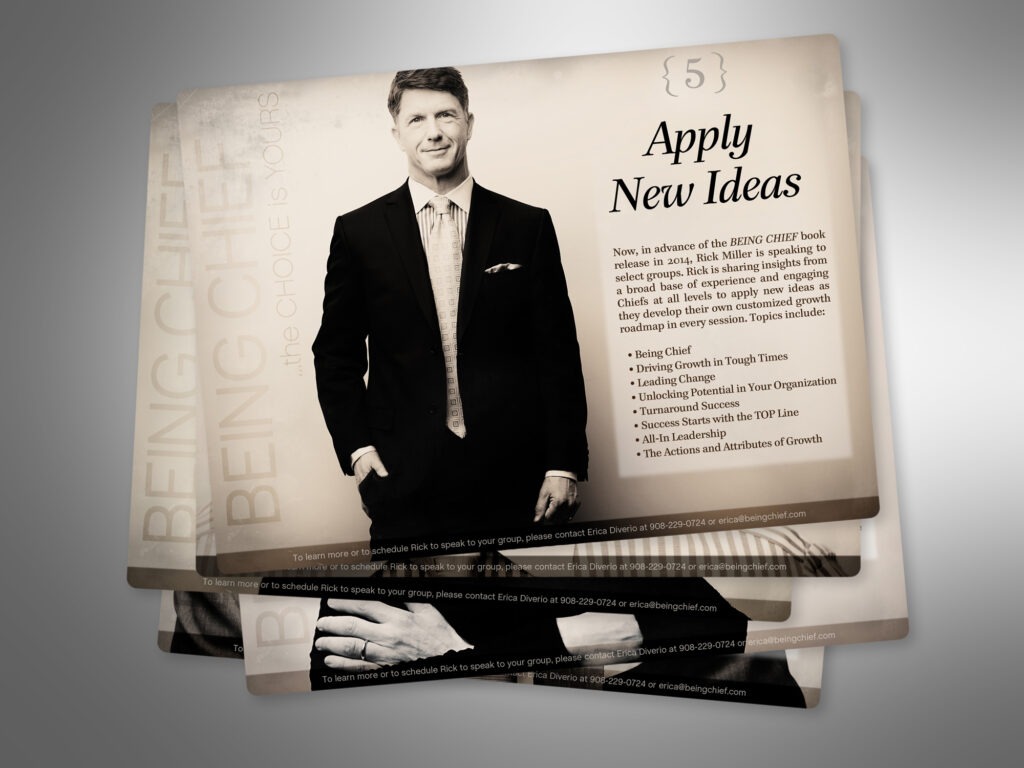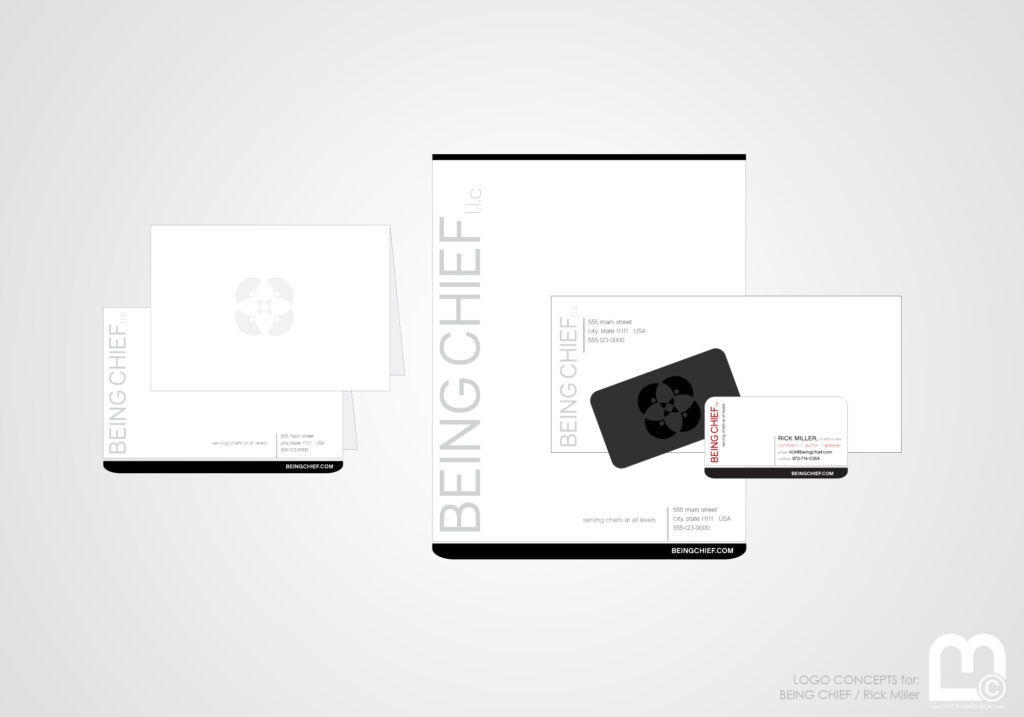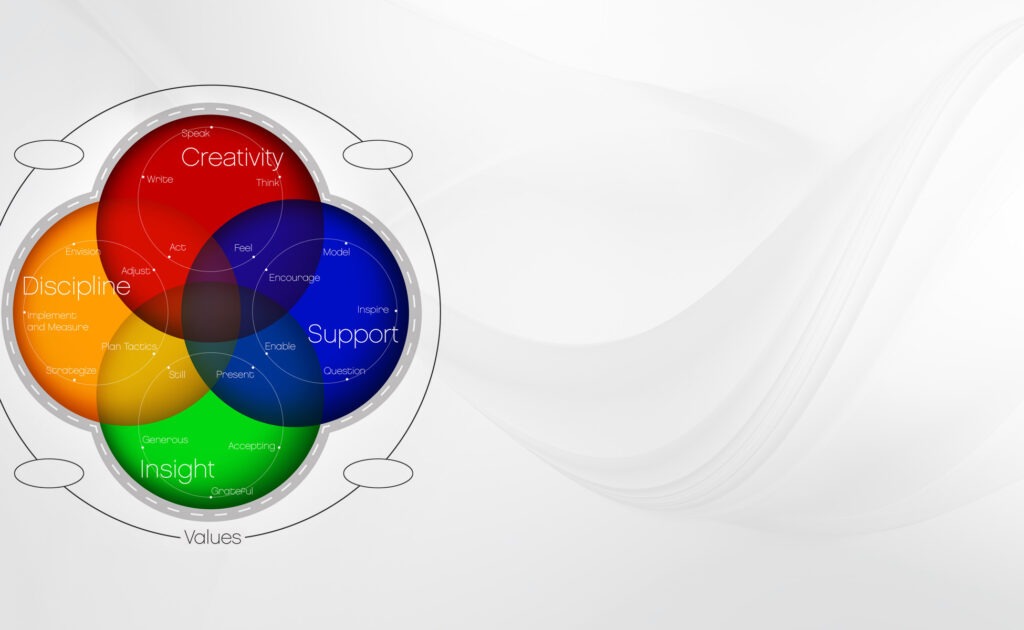 Long and short, Rick Miller received the white glove treatment, but then again, so does everyone who works with BLACK SUN studio, even if they are the president of their driveway lemonaid stand.
Oh and by the way we had some serious fun making images together.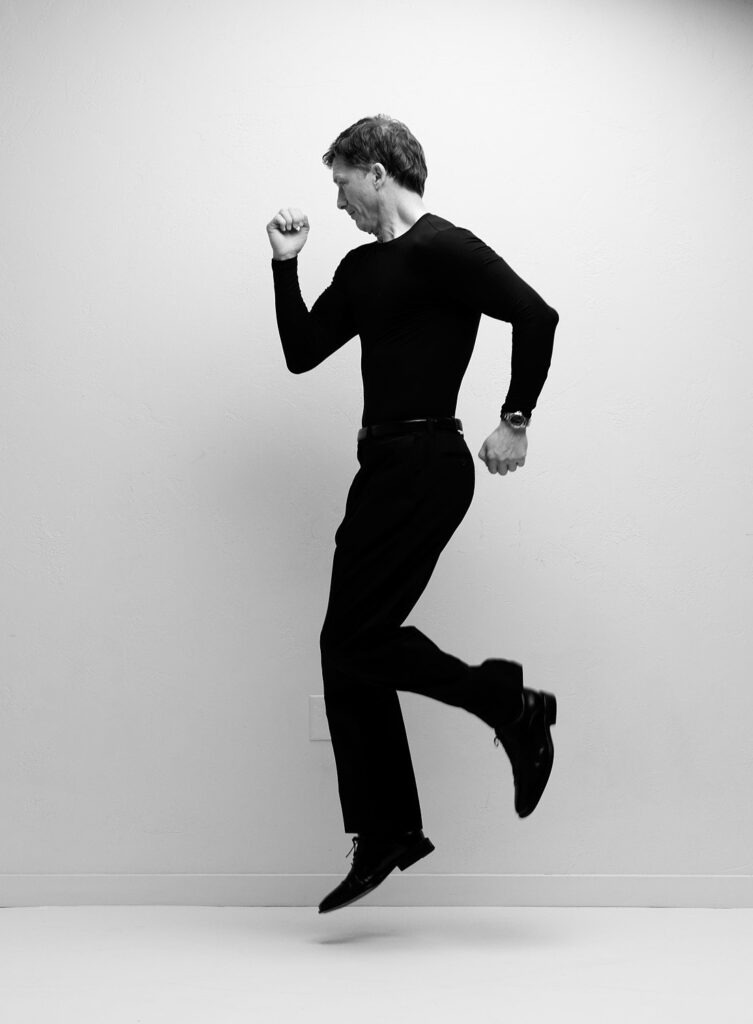 ###